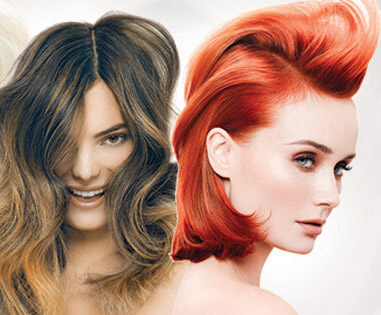 Hair Color
If you have super pale skin and brown hair, consider going lighter or at least having some highlights painted or foiled in. Super dark shades can wash you out and even make you appear older. I love the uber-trendy "bronde" and "ombré" styles for brunettes for the perfect sun-kissed look.
Some women look good in any color (remember Linda Evangelista?) but most women don't. If you had blonde hair as a kid, you'll likely look good as a blonde adult.

Can I Go Red?
Almost everyone can go red, what's most important is finding the right shade of red. If you want to go red, I suggest not trying it on your own. Get a professional consultation. You won't believe the number of emails I get from women whose hair turned out orange when they went the box route.

Gorgeous Black Hair
African-American women have many options when it comes to coloring hair. You can tint your hair, add highlights of color or try wigs and weaves to change it up without having to opt for permanent-never-washes-out color.
Gray Hair
Many women with gray hair choose to dye their hair. If you are all gray, you may choose to go blonde because blonde is easier to achieve (and maintain) than going dark. More and more women with gray hair are actually learning to embrace the grays. And it's no wonder. Grays and silvers are gorgeous colors, so much so that a couple years ago, young models were dyeing their hair gray and it was a trend of the moment.
Should You Do It Yourself?
Home-color kits have come a long way in the past few years. They are perfect for busy people and those who want cut the cost of professional colorings. (We know of a couple top fashion editors who color their hair themselves). But if you plan to color your hair more than 2 shades lighter or darker than your natural shade, you should head to a pro.
Should I Get Highlights or Full Color?
When it comes to hair color, you basically have 3 options: highlighting, single-process color or double process.
Ombré hair color has been popping up on red carpets for more than a year and is a great color option for brunettes.
Dip-dye hair color has seen no signs of flagging in popularity in 2013. Not just a trend for teens, dip-dye color — in which the ends are dipped in color, while the rest of the hair is left natural — is popping up on women (and men!) of all ages.
Bronde or "brown blonde" is that perfect shade between blonde and brunette that was first made popular back in 2007 by supermodel Gisele Bundchen and remains popular into 2013.
Balayage is taking the country's salons by storm and works on all hair colors, but is especially great on blondes with a beautiful base.
Bright hues including streaks, washes of pastels, Kool-Aid hair color and more.
Platinum blonde hair remains popular in 2013. Keeping hair this blonde is high maintenance, however, and won't suit all skin tones. Find out if platinum hair color suits you in Can You Get Away With Platinum Hair?.